Contact Us Today For a Free Estimate!
Design/Build Services
---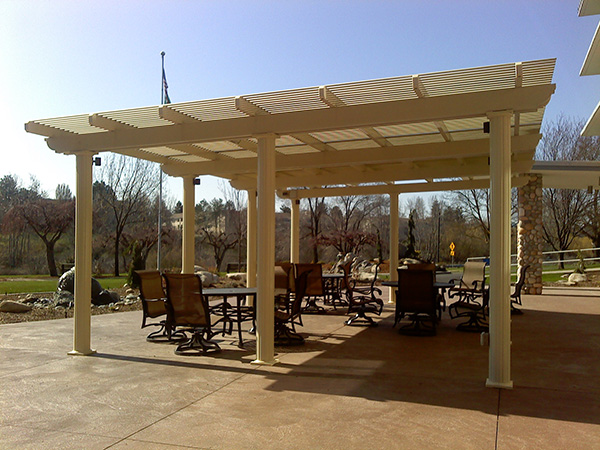 Alpine Patio and Home Products has been designing outdoor living spaces in Spokane and Coeur d'Alene since 1976. Our team of experienced designers and installers is excited to work on your new shade structure for your home.
We have a large selection of patio and deck covers to choose from that provide shade or full weather protection. Whether you're interested in a fixed awning or a retractable awning design, or have a creative shade structure in mind, Alpine Patio and Home is excited to make your dreams come to life. These designs offer you a variety of methods to choose what level of shade protection you need in your outdoor living space:
A pergola is another type of shade structure that adds beauty to your outdoor spaces and can either be covered, or left open to bring in more light. Whether you're wanting to have us install it for you, or you're considering purchasing a kit to DIY your patio cover, awning, deck cover or other shade structure, Alpine can help!
Alpine Patio and Home also installs railings, carports and manufactured home set-ups. Safety railings are a major concern for any homeowner with an elevated deck, pool or exterior steps or stairs. At Alpine Patio and Home, we use DekSmart railings because of their versatility. Customers can choose from tempered glass, or powder coated railings in a wide variety of colors. These rails can help to keep you and your family safe while you enjoy your outdoor space.
Call the Outdoor Living Experts at Alpine Patio and Home Products to schedule a FREE consultation at your home today.
Contact Us Today For a Free Estimate!

Phone: 509-467-0600
Toll Free: 877-937-4233
Email: thad@alpineonline.net
9300 N. Market, Spokane WA
"Their service was very good. They did a nice a job. We are in a remote area. We often have trouble getting people to come and do anything for us, and they came and did the work."
–April 4, 2012